Armagh I has a new home....
Good morning, Micheal with you here on what is the penultimate day of the year. I had intended to leave the newsletter until the New Year but we've some exciting news to share; news we couldn't keep a secret for much longer, given the fact that our sign went up on Thursday afternoon.
Some of you may have noticed it already but we have officially moved into a brand new home - a whole new renovation and makeover - in the heart of Armagh City.
Armagh I's new home is officially No. 8 Barrack Street. After 10 years, we've finally got ourselves our own place, central in the 'capital' city of the county we cover!
As a team, we are delighted to finally have an unmistakeable presence in the community. We are an online news platform but we are very much here and open for business - our door is officially open (we do have a lock to keep some of you out...).
I just want to say a word of thanks and shoutout to Stuart and the team at Formation Works for having us there, and previously at the Dean Swift building on the Hamiltonsbawn Road, over the last number of years. Your support was greatly appreciated.
Also, a big shoutout to the team at Manor and Mill Estate Agents for helping us find our new home and their help with the design of the interior. The brilliant team of builders led by Jason Anderson for all their hard work and late nights. And finally AP Signs, Portadown for the design work and installation of our sign, as well as our interior artwork.
With that, a new year brings new beginnings, and we have plans to make 2023 a great year and we want to involve you, the readers! As always, if you've any ideas for us - and our new pad - let us know.
Like I said, feel free to call down, pop your head in, tell us your stories - you know where to find us. While I may be a little harder to track down, the team of Rikki, Kellie, Mairead and Scott will all be on hand to help out.
As always, you can also keep in touch via the newsletter, regular email and social media.
Until next time (I wanted to avoid the 'see you next year' vibes) here's what our office is looking like at the moment.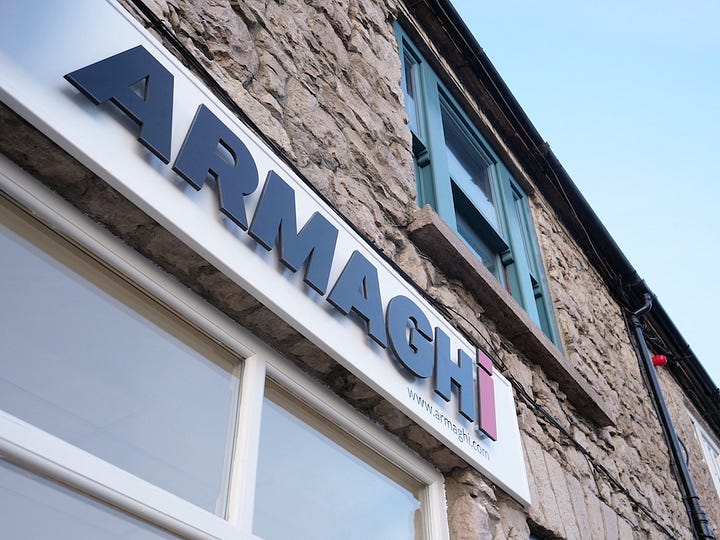 While you're here, here are some of the headlines from the last couple of days…
Armagh man slams Housing Executive as 'ice-box' home gas bill hits £400 in seven weeks
Police move to allay concerns in aftermath Natalie McNally murder
Man who used stolen bank card of deceased person to buy alcohol jailed for four months
Fundraiser for family of Boxing Day crash victims raises over £12,000
Claims deceased patients left lying in wards and corridors overnight in Craigavon Hospital
City of Armagh High to offer free breakfasts for all students in 2023
From pain relief to fat loss and post-exercise recovery, Alora Rejuvenation has the answer
Judge brands compassionate bail for Christmas dinner application 'hopeless'
Long overdue repair works on Newtownhamilton roads to begin in new year
Armagh I People of the Year awards!
Don't forget, voting closes on Saturday, so getting those votes cast before then. Check out the categories and vote for your winner here.