A fresh new look..
Good morning, Kellie here and – as promised – here is our new look newsletter!
You will notice that it's more or less the same format as our previous newsletter but there are a few more bells and whistles - polls for example and buttons (which make it easier for you to comment or share certain sections of the newsletter).
Please do keep an eye out for these new features and get involved! We would love to hear your thoughts on this latest issue - simply reply to this email to tell us what you think.
In the Headlines…
Car stolen in Armagh as CCTV captures men creeping around homes nearby
Six months jail for Middletown man who spat in police cars whilst on probation
Major £580,000 road scheme outside Armagh to take two months to complete
Armagh man threatened taxi driver with pointed article and made off without paying
Watch: Brazen thief makes off with brand new E-bike from outside Portadown home
Fears raised over war between rival Newry and south Armagh drug gangs as woman denied bail
PPS to appeal 'unduly lenient' 13-year term handed down to baby Hunter McGleenon killer
Disgusting! Rotting food on show as dozens of bin bags dumped on Portadown street
Portadown man accused of rape more than 20 years ago
Ratepayers foot £800k bill for Council's flawed SRC development at Craigavon Lakes
Co Armagh priest denies spying on woman in changing rooms at Rushmere Shopping Centre
In Pictures: Huge smiles as Christmas – and Santa – arrives in Crossmaglen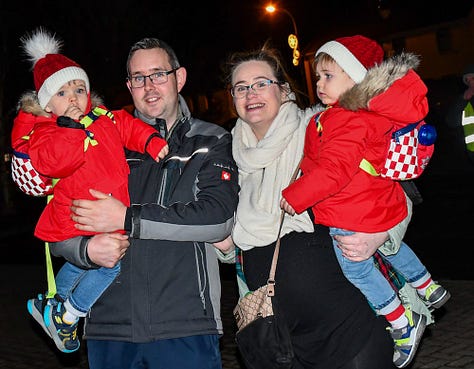 Jonesborough accountant for drug smuggling gang facing jail in New Year
Gilford schoolgirl lands leading role in RTÉ's Toy Show The Musical
South Armagh businesses donate items worth thousands for local families in Christmas appeal
Ukrainian artist living in Portadown aiming to buy ambulance with sale of paintings
---
Aonach Mhacha's Gearóid Ó Machail
Gearóid Ó Machail from Aonach Mhacha discusses the background to the new Irish language centre which officially opened in Armagh in March 2020, following more than a £1million investment by the Department for Communities.
---
ABL Group's Sarah Jayne Cromwell finds her niche as Chartered Insurance Broker. Now, with 12 years in the industry under her belt, she proves that sometimes you find your niche when you least expect it. Subscribe to our YouTube Channel
The position of a trained HGV mechanic has become available at Corr Brothers Ltd
Mac Electrics are recruiting for an Electrical Counter Sales for immediate start
Armagh City Hotel are currently recruiting for a Conference & Banqueting Co-Ordinator
Christmas in Milford
Monaghan Street, Milford | December 1 | 7pm - 8pm. An evening of carols, prayers, Christmas lights switch on and a visit from Santa and Mrs Claus where gifts will be given to all the children.
Customer Appreciation Day
JD Hunter's Markethill | December 2 - 3 | 11am - 3pm. Come along to sample products from the instore butchery, deli counter and local suppliers.
Markethill Christmas Lights Switch On
Main Street, Markethill | December 2 | 7.00pm. Twilight market starting at 6.00pm. Music and singing at the tree, face painting, stalls and balloon modelling.
Christmas Concert with Armagh City Choir
St. Patrick's COI Cathedral | December 9 | 7.30pm. Tickets £10.00 available from choir members or on the door.
Creative Commotion Craft Fair
Benburb Priory | December 10 - 11 | 11am - 4pm. December 10: Eilis Fox & Christmas Georgie the street performer. December 11: The Armagh Rhymers & Reindeer Rodeo Bull.
---
CPS Property adds to accolades in 35th year and to crown an amazing year, CPS were further awarded Number 1 Real Estate Agent of the Year at the ultimate awards ceremony.
This week's featured property…
For Sale: 20 Hillcrest Green, Bessbrook. A beautifully appointed three-bedroomed semi-detached home with two receptions, enjoying an excellent position within the ever-popular Hillcrest Village Residential development.
Competition Time…
First up, massive congratulations to Angela Jordon for being the winner of our Afternoon Tea for two at Armagh City Hotel! Please contact our office to arrange collection. We hope you thoroughly enjoy your prize!
Next in our Christmas Giveaways we have a beautiful Fireside Companion set courtesy of Killeen Hardware. Enter here.
And there's also our weekly cinema ticket giveaway! Don't forget if you didn't previously win, it's the click of a button to re-enter. One lucky winner announced every Friday exclusively to our newsletter readers! Check out Omniplex here.
---
What else is new..
Not a subject we like to dwell to much on but the passing of a loved one does happen. As most of our readers will be aware, you can view funeral notices and acknowledgements on Armagh I and Tyrone I. Now you can also place a memoriam notice with Armagh I. Simply click here to place a notice
Fun, festive workshops for all the family this December at Hill of the O'Neill and Ranfurly House.
Burnavon Theatre bursting at the seams with Christmas events this December!
Gene Stuart's legacy lives on to the tune of 47 years at Stewart's Music Shop
In 1975, 31-year-old acclaimed country music singer, known professionally as Gene Stuart, had just formed his own showband, The Homesteaders after a successful five-year career with the Mighty Avons.